SPECIALISTS IN ARCHITECTURAL MODELS SYDNEY - PREMIUM QUALITY FROM PREMIER3D
PREMIER3D specialises in Architectural Models Sydney. We have a local studio in Crows Nest Sydney that provides architectural visualisation services.
With offices in Sydney, Melbourne, Brisbane, and Canberra, Premier3D has established itself as a trusted partner for the property industry across Australia. Our team of experienced professionals combines artistry and technical expertise to create architectural models that accurately represent each project's vision and design. By working closely with architects, developers, and stakeholders, we ensure that our models capture the essence of the proposed structure, effectively communicating its aesthetics, functionality, and spatial relationships.
In the world of property development, architectural models play a pivotal role in transforming design concepts into tangible, three-dimensional representations. These meticulously crafted models offer an unparalleled way for architects, developers, and clients to visualise and refine their projects, ensuring that every detail is perfect before construction begins. As a leading 3D render studio in Australia, Premier3D specialises in the creation of stunning architectural scale models, catering to the unique needs of the property industry with unparalleled skill and precision.
We service the entire Sydney area for all your 3D Architectural Model needs.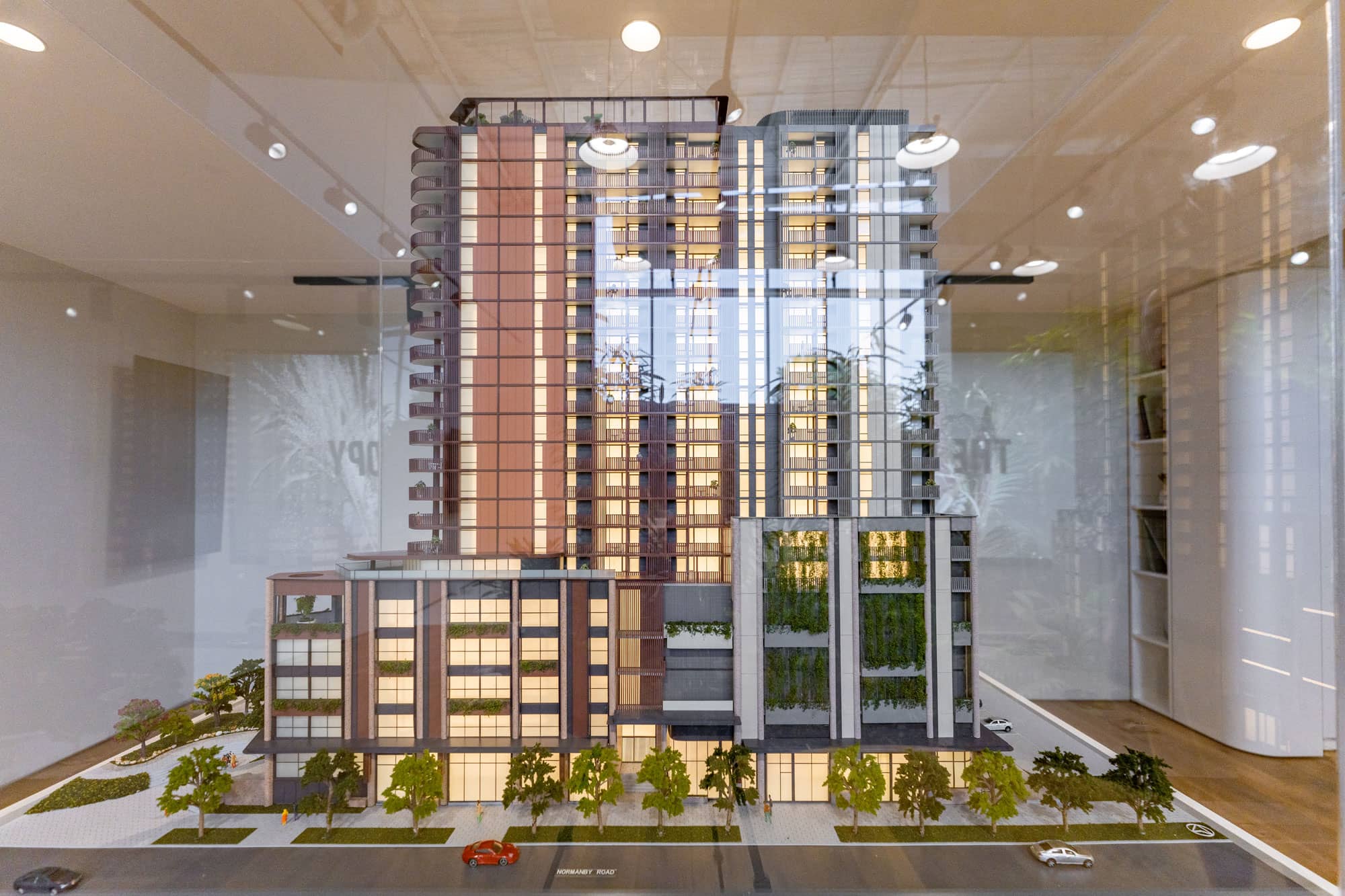 ARCHITECTURAL MODELS - BRINGING PROPERTY VISIONS TO LIFE WITH PREMIER3D
In the property industry, architectural models serve a multitude of purposes. They are essential for securing planning permissions, as they help decision-makers understand the potential impact of a development on its surrounding environment. Furthermore, they provide a valuable tool for marketing and sales, allowing prospective buyers to envision themselves in the space and appreciate the finer details that may not be readily apparent in 2D drawings or digital renders.
At Premier3D, we understand the immense value that architectural scale models bring to the property industry, and we are dedicated to producing models of the highest quality. We ensure that our architectural models stand the test of time, providing an enduring testament to the vision and ingenuity of our client's projects.
Whether you require a detailed scale model for a residential development or an intricate representation of a commercial complex, Premier3D is your go-to 3D render studio in Australia for exceptional architectural models that bring your property visions to life.
ARCHITECTURAL MODELS SYDNEY – PREMIER3D
The team at PREMIER3D has over 40 years of combined experience in architectural visualisation and 3D rendering services.
Realistic representations of the proposed plans are typically more visually impactful. Sometimes 2D drawings or plans just don't cut it! Our goal is to bring your vision to life in great detail to showcase all the benefits of the project. Architectural Models are impressive visual aids that will help you win over clients or increase sales. Presenting to a client can be stressful, and in such a highly competitive market you want to show your project in the most appealing way possible and create an impact that will stay with them long after the meeting.
The PREMIER3D team will work tirelessly to ensure the Architectural Model is as detailed and close to the design as possible. We want it to look like the real thing. We will work with you during the design process to ensure the model meets your project requirements.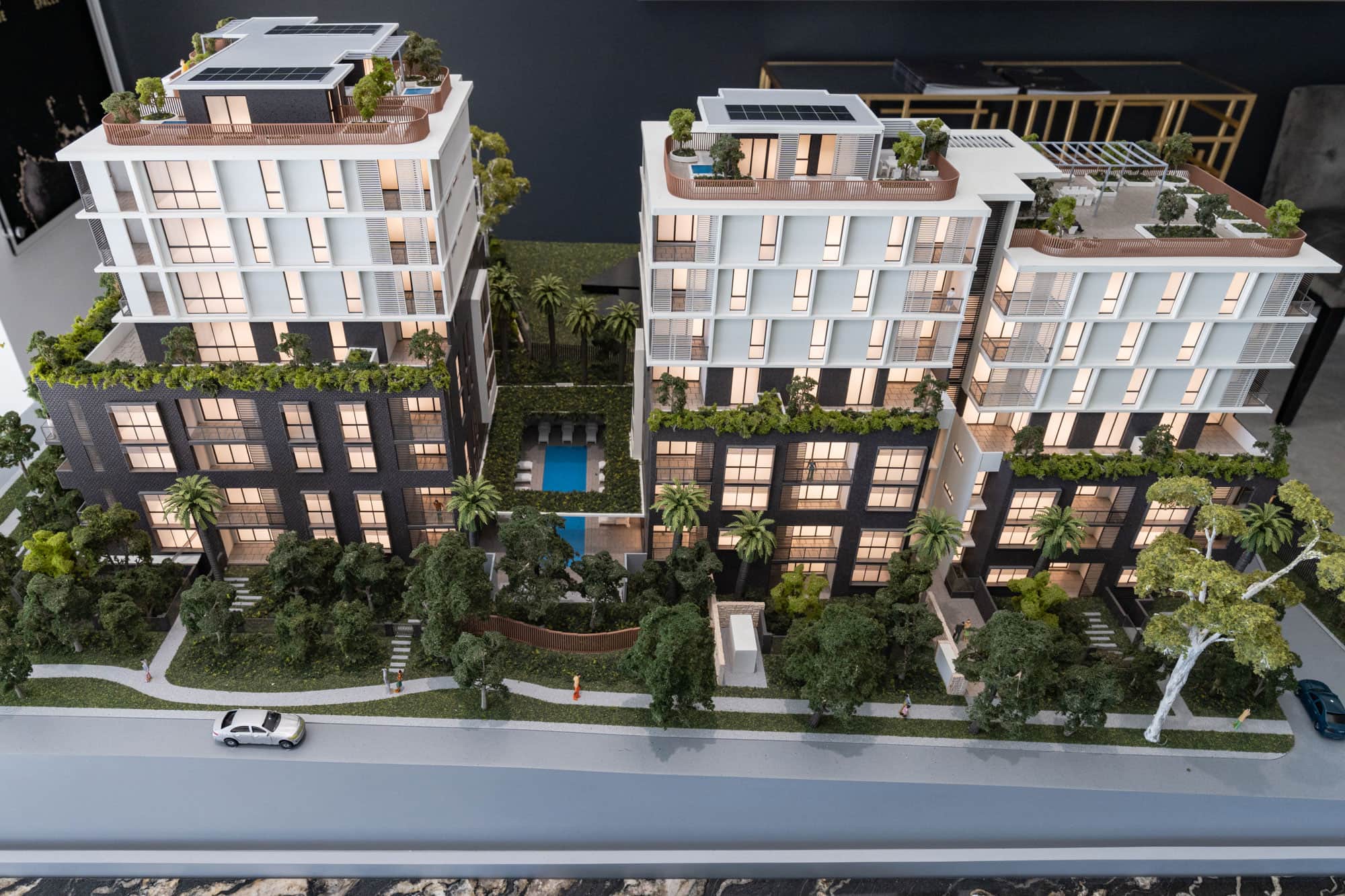 WHAT IS AN ARCHITECTURAL MODEL?
An architectural model (also known as marketing models or 3D scale models) is a type of model that is a physical representation or a real proposed structure. The goal of architectural models is to highlight all the details of an architectural design or to communicate the ideas.
They can be made out of various materials, however, PREMIER3D's architectural models are made from hard acrylic.  We create both exterior and interior models.
ARCHITECTURAL MODELS SYDNEY – 3D RENDERING STUDIO
Architectural Models are useful for multiple different situations and several different industries. That is one of the best things about them – they can be used so many times – so you really get value for your money. Architectural Models are visually impactful and help clients to visualise their designs.
PREMIER3D has extensive experience working with clients to bring their designs to life, and we are very proud of the superior services we provide. We are the leading 3D architectural visualisation studio in Sydney because we provide excellent client service, turnaround time and high-quality products. If you require an architectural model, speak to the experienced team at PREMIER3D.
3D rendering is used in a range of industries. For architects, they are a powerful way to visualise buildings, complexes, houses or even to recreate ancient structures. Industrial designers use them to simulate specific situations and use cases. Advertisers and graphic designers use them to get more striking results.
The industries that PREMIER3D work with include:
ARCHITECTS
DEVELOPERS
REAL ESTATE AGENTS
INTERIOR DESIGNERS AND ARCHITECTS
HOME BUILDERS
SPECIALIST INDUSTRIES AND GOVERNMENT SECTORS
Please describe your requirements and one of our project managers will be in touch within 24 hours.
Privacy is important to us. Your details will not be transmitted or passed on to any third parties.
PREMIER3D PROVIDES EXCEPTIONAL 3D MARKETING MODELS FOR MANY SYDNEY SUBURBS
Get in touch today to get your 3D Marketing Model started and let us help you bring your visions to life.