SPECIALISTS IN 3D FLOOR PLANS BRISBANE
HIGHEST QUALITY 3D FLOOR PLANS
PREMIER3D specialise in 3D Floor Plans Brisbane. 2D and 3D floor plans are essential to many industries and clients and are a great way to get a visual of the space, including planned or in development spaces.
We create both 2D and 3D plans. Our 2D Floor Plans are in full colour and highlight materials used, textures and the overall space. The 3D Floor Plans are in full vibrant colour and showcase materials, textures and furnishings to create a lifelike visualisation of the space.
PREMIER3D's 3D Floor Plans Brisbane are vital for presentation purposes and help stakeholders understand the plans and overall design. We have the software, expertise, knowledge and experience to bring any type of project to life in beautiful and accurate 3D floor plans. If you are looking for a rendering studio to create 3D Floor Plans Brisbane, give us a call.
PREMIER3D SPECIALISING IN 3D FLOOR PLANS BRISBANE
PREMIER3D is the leading rendering studio in Brisbane. We provide a variety of architectural visualisation services for a diverse range of clients. Our high standards and great work ethics are evident through our work with property developers, real estate agents, interior designers, architects, government agencies and building leaders in the land and home industries.
With 40 years of combined experience in the field of digital architecture, the PREMIER3D team will assist in bringing projects to life in the form of 3D Floor Plans. With studios in Sydney, Canberra and Melbourne, you count on us to create hyper-realistic and stunning floor plans to suit your goals.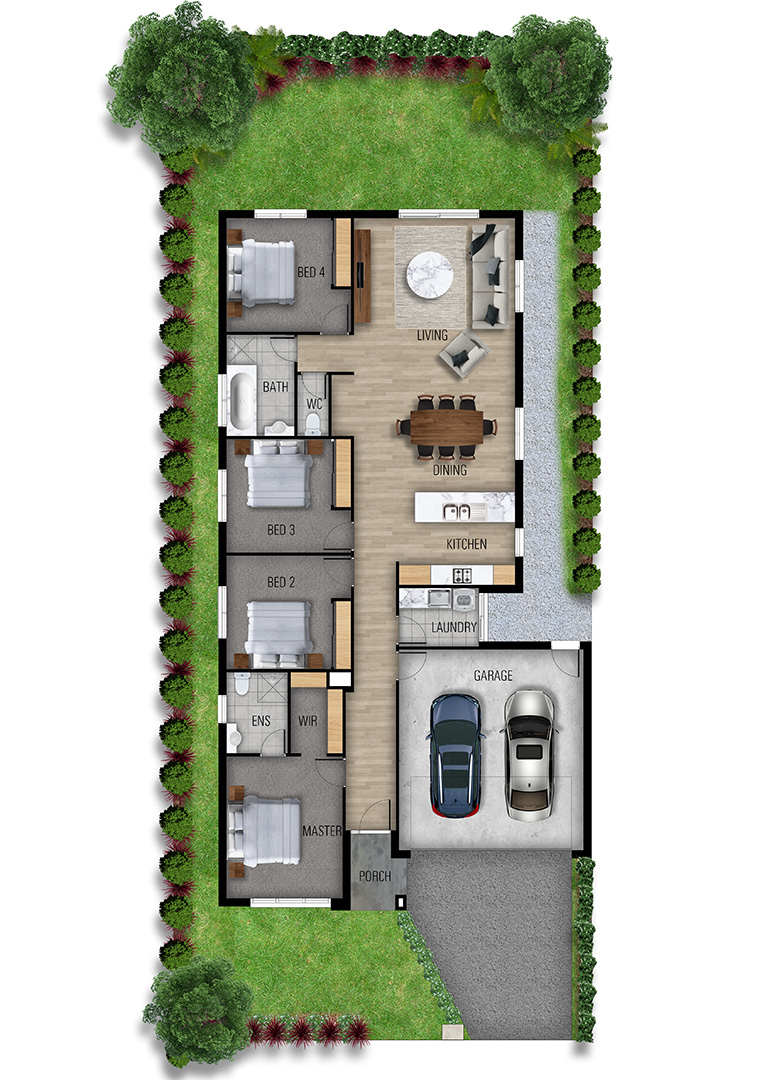 3D floor plans represent more details regarding design, layout and textures than 2D floor plans. They look amazing for presentations, sales, marketing and on websites like realestate.com.au. They are also helpful during the building and contracting phase and have an overall more professional look.
2D floor plans are a more basic representation of the architectural layout in a digital format. They are still very useful and very easy to understand, but have fewer details and don't look as aesthetic or realistic.
BENEFITS OF 3D FLOOR PLANS
There are some fantastic benefits of purchasing a 3D Floor Plan including:
Helps space visualisation

Comprehensive plans

Details Spatial Measurements and Dimensions

Highlights Important Features

Shows a realistic visualisation of the project

Improves chances of selling property

Provides Accuracy
3D FLOOR PLANS BRISBANE – PREMIER3D
3D Floor Plans are a fantastic tool to help visualise a project. 2D and 3D Floor plans help stakeholders visualise the space, dimensions and layouts easily and are very impressive.
PREMIER3D is the leading 3D architectural visualisation studio in Brisbane because we provide excellent client service, turnaround time and high-quality products.  We have worked hard to refine and create a seamless process when creating 3D Floor Plans for you.
If you require 3D Floor Plans in the Brisbane area, speak to the experienced team at PREMIER3D.
The industries that PREMIER3D work with include:
ARCHITECTS
DEVELOPERS
REAL ESTATE AGENTS
INTERIOR DESIGNERS AND ARCHITECTS
HOME BUILDERS
SPECIALIST INDUSTRIES AND GOVERNMENT SECTORS
Please describe your requirements and one of our project managers will be in touch within 24 hours.
Privacy is important to us. Your details will not be transmitted or passed on to any third parties.
PREMIER3D PROVIDES EXCEPTIONAL 3D RENDERING SERVICES ACROSS MANY BRISBANE SUBURBS
Get in touch today to get your architectural visualisation project started and let us help you bring your visions to life.